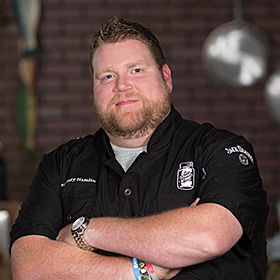 Rusty Hamlin
Chef Rusty Hamlin returns to curate the festival's fifth culinary lineup. The Louisiana-born chef and co-creator of Zac Brown Band's Eat & Greets uses fresh, locally-sourced ingredients throughout the festival's concessions and Front Porch Stage Boxes. Learn more via CNN
RJ Cooper
Returning to Southern Ground Music & Food Festival for his fifth year is festival veteran Chef RJ Cooper. Growing up in Detroit, RJ Cooper watched as his mother and Sicilian grandmother cooked everything from scratch. In high school, he took an apprenticeship at a local bakery before attending culinary school. After graduating, Cooper worked under a variety of chefs, including Eric Ripert before moving to D.C., where he served as chef de cuisine at Vidalia and earned a James Beard Foundation award for Best Chef in the Mid-Atlantic. In 2011, Cooper opened his first restaurant, Rogue 24 followed by the rustic Gypsy Soul in 2014. He has recently moved to Charlotte, NC where he has been tapped to create a new culinary experience for the Charlotte Marriott City Center.
Craig Deihl
Born & raised in Danville, Penn., Chef Craig Deihl grew up in a quintessential American household, where every evening dinner was on the table by the time his father was home from work. His mother, an "unbelievable" cook, graced the family's table with homespun meals—a ritual which remains to be one of the biggest influences he has had as a chef.

Deihl is a founding member of the Butcher's Guild, a network of meat professionals that promotes responsible butchering through education and community. Deihl was chosen in 2010 as Chef of the Year by the Charleston chapter of the American Culinary Foundation. That same year, he was a semi-finalist for a prestigious James Beard Foundation award for best chef Southeast, and was a nominee for the award in 2011 and 2012, as well as a semi-finalist again in 2013.

Through a partnership with the American Livestock Breeds Conservancy (ALBC) and farmer Gra Moore of Carolina Heritage Farm, Deihl had the opportunity to be the first chef in over 100 years to utilize the rare American Guinea Hog. This same passion for preserving meat prompted him to adopt the CSA-like concept for meats, Artisan Meat Share (AMS). From 2009-2013, participants received local charcuterie and local farmers, in turn, received support from the increased product demand in what Deihl describes as a win-win scenario for both. In September 2014, Artisan Meat Share opened at 33 Spring St., providing a place where guests can enjoy all that AMS has to offer—all the time—including award-winning charcuterie, freshly butchered meat and delicious sandwiches.

To date, Deihl has produced over 90 types of charcuterie which have been prepared, stored and cured in-house at Cypress.
Patrick Owens
A Charleston native, Patrick Owens' knowledge and passion for Southern cuisine runs deep, cultivated as a child in his grandparent's kitchen and at Lowcountry fish fries at the family cabin on the Pee Dee River. A Clemson marketing graduate, Patrick played guitar professionally while working his way through various kitchens in Charleston, learning his craft slowly and surely. He started his official culinary career as soon as he was old enough to hold a job, catering with Charleston Bay Gourmet as a teenager and later moving into more serious posts at Circa 1886 and Magnolia's.

At just 27, Patrick seized an opportunity to have his own restaurant, and opened Langdon's Restaurant + Wine Bar (Langdon is Patrick's middle name) in a tucked-away shopping center in Mt. Pleasant. Fast-forward 10 years, when Langdon's has since become a bright spot in the local dining scene, garnering the praise of locals and tourists who praise Patrick's "top-tier" fare and "excellent wine list." Under Patrick's leadership, Langdon's continues to shine, earning the only AAA Four Diamond award East of the Cooper every year since opening.

Nearly 10 years after the opening of Langdon's, Patrick sought a new challenge and outlet for cultivating his affinity for more casual, Mediterranean-style cooking. In 2011, he opened Opal Restaurant + Wine Bar, his own take on an inviting, California-style eatery with a bustling bar, legendary charcuterie plates, handcrafted pastas, and the same level of attention to serivce and detail as the more formal Langdon's. He has succeeded in creating a place where people gather, imbibe and enjoy well-executed, unpretentious food. As one local critic said of Opal, "With its one-page menu, daily specials, and comfortable vibe, the appeal of this fine dining option in Mt. P already reaches far beyond the neighborhood."

As one of the only top local chefs to have actually grown up in the area, Patrick has remained committed to and passionate about his hometown, giving back to a number of local causes and charities. His undisputed talents as a chef and humble disposition continue to be lauded by his long-time loyal fans, and have attracted the attention of a national audience as well. In 2013, Patrick was invited to cook for a sold-out dinner at NYC's James Beard House. Patrick has singlehandedly raised the standard on cuisine in Mt. Pleasant and he takes great pride in creating dining experiences that endure the test of time.
Mike Perez
Executive chef Michael Perez brings more than eight years of experience in the restaurant and hospitality industry to Indaco. Perez joined the culinary team prior to opening in August 2013 to assist with menu development and to establish their unique pasta program, making him an essential member of the Indigo Road's newest restaurant endeavor. He was soon promoted to serve as Executive Chef.

A Johnson and Wales University--Miami graduate, he first moved to the Hawaiian Islands and cooked aboard two Norwegian Cruise lines.

Raised in Portland, OR, he returned there in 2007 to stage under a French trained chef at the Timberland Lodge. He then worked as Sous Chef at Ten 01, which was named "Restaurant of the Year" under his direction. In 2008, he was hired as Sous Chef at Tabla Mediterranean Bistro in Portland, Ore., which received the award for "Best Pasta Dish" by Willamette Week's Annual Restaurant Guide.

In 2010, Perez moved to California and worked as Sous Chef under acclaimed Food Network chef Scott Conant at his award-winning restaurants Scarpetta in Beverly Hills, CA. and then on the opening team for Scarpetta inside The Cosmopolitan Hotel in Las Vegas, NV.

Prior to moving to the Lowcountry in 2011, he served as Executive Chef at the Deep Creek Fishing Club in Ninilchik, AK where he successfully developed a new menu at the full-service luxury lodge.

Perez is now executive chef of both Indaco and Colletta restaurants in Charleston, SC and Atlanta, GA. Under his direction, Indaco has been named Best New Restaurant by Modern Luxury, and was named one of the top ten Italian restaurants in Charleston by USA Today.
Nicole Crane
As the new resident baker of the Southern Ground family, Nicole hails from the Washington DC area where she honed her gluten-free and allergen friendly baking skills. Her passion (and weakness) are sweets, but she loves the reward of a perfect boule. In a former life, she was a Ph.D. chemist. While she believes baking is more art than science, her background as a scientist has helped shape her perspective on baking.
Joshua Butler
Chef Joshua Butler is a 20-year kitchen veteran from Florida who's been a part of the Southern Ground team for five years. Josh lent his culinary expertise as Executive Chef of Zac Brown's restaurant, the Southern Ground Social Club, as well as with Zac Brown Band's Eat & Greets, preparing pre-show sit-down meals for fans. Josh's current role at Southern Ground comes after serving as the youngest governor's Executive Chef in the country, holding the helm at the Florida Governor's mansion for over 13 years.

Serving five Governors and many dignitaries of State provided unique opportunities to prepare dishes for world leaders and visit the White House as a guest chef on several occasions. During his time at the Governor's mansion, Josh teamed up with Fresh from Florida to promote the state's agriculture throughout the U.S. and abroad. He also acted as a state representative in helping win the Great American Seafood Cook-Off. Josh remains committed to perfecting his craft and is proud to be doing so as part of the innovative Southern Ground culinary team.
Collins Woods
One of Southern Ground's very own, Chef Collins Woods heads to Southern Ground Music & Food Festival to share his culinary history drawn from inspiration dating back to his childhood. After graduating from Johnson & Wales University with an Associate of Arts in Culinary Arts/Chef Training, Woods began traveling with Zac Brown Band cooking underneath longtime chef, Chef Rusty Hamlin. Known to the Zamily as C-Money, Woods has been a part of the Southern Ground family for 5 years now. His cooking style has family roots with a southern flare, and he prides his cooking on a means to connect with people over a wholesome, and healthy meal.